Hi again.  Review time!  This one is the new PGA Tour 15.  I was so pumped that it came out and was super excited to start to play it.  It has an online sync mode which I love to play with my buddy Brian when he has time (he owns and runs an Akron Carpet Cleaning business and tries to make time to get his butt whipped).  So far it has been amazing.  Get ready for the sweet review!
There are tons of things I love about this game.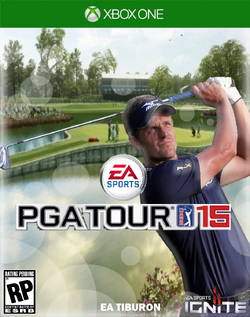 Graphics
The graphics are freaking amazing.  You can see trees, grass, birds, pretty much anything at an actual golf course with great detail.  I know they spent a ton of time creating as much detail as possible.  The motion of the swing looks pretty good and the ball flies off the club just like in real life.  The only bad thing I would put here in the graphic section is that when they do the closeup of a crush shot, the ball hits the end of the clubhead.  Not like a real golf shot
5/5
Sounds
The sounds in this game are great.  From birds and animals wondering and flying around the course.  You can hear the smack of the golf ball on each shot.  Even when you drain a putt you can hear the sound of the clank as the balls goes into the hole.  If you are lucky enough to be a "pin seeker" you can hear the sound of the ball striking the flag on its approach.
5/5
Load Screens
These are actually pretty funny to read.  You don't notice them as much because you are reading the content that they provide.  Sometimes it's like, hang on while we pay our caddies for their work.  Or we are just updating all our sand traps.  Something like that that takes your mind off of the actual loading screen.  Normally in games you just keep staring at the words "Loading Please Wait" and it gets so annoying.  The only downfall is that it does take a few seconds to do the actual loading.
4/5
Characters
In the past, this has always been a big topic with golf games.  As a player, you always want to see what golfers are included.  I didn't think about that when I purchased the game as I knew it would have some good ones.  The big glaring miss is of course Tiger Woods.  He is not on the game.  I was a bit disappointed that it only included a small handful of golfers.  For whatever reason, I always felt like I had 10-12 golfers to choose from.  This year it only has like 7-8 or so golfers.  No funny guys either except for old Pops.  Definitely a missing piece with this game.
3/5
Courses
TPC Sawgrass and TPC Scottsdale are two of my all time favorite courses.  When I saw that if you pre-order the game you could get TPC Scottsdale, I jumped all over it.  When I started going through the courses, EA Sports did include some good ones.  I love the whole battleship themed par 3 course, even if EA is trying to capitalize off of their war game.  The course is a lot of fun to play.  The big missing piece is "Augusta – Masters".  But, I understand that they are so protective of the Masters brand that it can be tough to negotiate.  There are quite a few links courses included, but I think that just happened because of the US Open and British Open both being at that type of course.
4/5
Online
Absolutely love the online stuff this game offers.  I have never had a connection problem (yet).  The game-play is so fast it's pretty cool.  You can get done with an 18 hole course in 30 minutes.  When playing with my buddy Brian (mentioned above), his golfer will be in the background of mine.  I don't have to wait for him to hit or anything, I can even see his ball tracking on the hole.  You do wait at the end of each hole to finish, but usually it isn't bad.  The online daily and weekly tournaments are awesome.  Each tourny has a different setting featured to make the courses play a bit different.  I'm not too good yet, but still love to compete.
5/5
Overall
Overall it looked like my grading period gives this game a 26/30 score.  So you mathematicians out there, that is about 87%, which is pretty high for a video game!  If you like golfing and live in the snowbelt, go get this game and handle that golf fix of yours!